Family and History Background
I was born in Brownsville, TX on June 2, 1980.
My parents are Jose and Carmen and I have one brother named Izel.
You can see pictures of my family and me on the family photo page section of my main photo page.
I attended Palm Grove and Garden Park Elementary Schools.
I then attended Vela and Stell Middle Schools.
I attended the High School of Medical and Health Professions at Hanna High School.
It was a magnet school for medicine, as I had always wanted to become a doctor
(that would eventually change).
In high school, I was involved in various organizations including
Health Occupations Students of America (HOSA), for which I was a state officer.


College Life
Texas A&M University
I attended Texas A&M University for 5 years where I received my Bachelor's Degree in History with a minor in Political Science. I was involved in many organizations and if you would like to view some of my involvement, please take a look at my resume. While at A&M, I got to study abroad in Poland, and that was one of my greatest experiences ever. I ended up working for the Study Abroad Office and that was my last job until I graduated. You can see pictures from my experiences at A&M on my Texas A&M photo page.
Alpha Phi Omega, National Service Fraternity
I love to do service and give of myself to others, so when I was a freshmen, I was introduced to one of the greatest things I have ever known... Alpha Phi Omega and the Xi Delta Chapter. Throughout my tenure in the 9 semesters I was active, I recorded over 1000 hours of community service hours, had various leadership positions, and made life-long friends. The greatest experience of my life was having the honor of being the 2002 National Convention Chair for the 2002 National Convention that was held in New Orleans, LA. Click here to look at some of the pictures from the convention. Alpha Phi Omega has given me so much that I have decided to continue being involved as an alumni and give something back to my fellow undergraduate brothers. Most previously I served my fraternity in 3 roles: 1) as the Leadership Development Chair for Region VII (Louisiana, Mississippi, New Mexico, and Texas) which also allowed me to serve on the National Leadership Development Committee, 2) served on the National Service and Communications Program Committee as a Communication Specialist, and 3) by being a presenter for APO LEADS, our National Leadership Development Program. You can find pictures of my experiences in Alpha Phi Omega on my Alpha Phi Omega photo page.
Graduate School
Student Affairs Administration in Higher Education (SAAHE)
I recently completed my Masters Degree in Student Affairs Administration in Higher Education (SAAHE) at Texas A&M University. I had not dreamed of ever entering this profession and now, I have received a degree in an area that I have fallen in love with it as I am able to do what I love the most, which is to have interaction with students and help them develop as leaders and individuals. The rewards are endless. The program wasset up in a cohort fashion, so I practically "lived" with 17 other great individuals that had the same great passion as I do for assisting students in their development. Through the program, I had a graduate assistantship in the Memorial Student Center (MSC) Student Programs Office. You can view pictures from my experiences in the MSC in my MSC Student Programs Office photo page. An amazing experience I was able to have thanks to the SAAHE program was an international student affairs internship. This internship occurred by working at Xi'an Jiaotong University in Xi'an, China. You can view pictures from my experiences in China on my China Student Affairs Internship photo page or you can read about my experiences while in China on my online journal by clicking here. You can view my Student Affairs Personal Philosophy by clicking here. You can also view pictures from my other experiences with the SAAHE program on my SAAHE photo page.
Professional Experience

Franklin College - Lugano, Switzerland
My current professional job is an educational administrator position at the Franklin College in Lugano, Switzerland as the Director of Student Leadership and Development. Following my unexpected and quick departure from my previous job, I found what I belived to be the right job and a great fit for what I was looking for... A great professional job which I plan to have long term growth while at the same time quenching my passion for world travel, exposure, and learning about peoples and cultures. Make sure to check out my Franklin College and Lugano, Switzerland Photo Page for a variety of photos of my continuing experience abroad while at Franklin College!!!

St. Mary's University - San Antonio, Texas
My fourth and short tenured professional job was at the St. Mary's University in San Antonio, TX as the Director of Student Activities and Transition Programs. Unfortunately, this great oppotunity which had brought me closer to home for my family and to on my doctorate came to an unexpected and quick depature. As a believer that everything happens for a reason, I kept positive knowing that something better was within my short future.
American University of Kuwait - Salmiya, Kuwait
I third job I held as a professional educational administrator was at the American University of Kuwait as the Director of the Office of Student Life in Salmiya, Kuwait. Moving to Kuwait to work at AUK was a dream come true for many reasons. Those reasons include my passion for seeing the world and working abroad, but more importantly the amazing job opportuny that I was offered to be able to supervise and lead an amazing team of individuals, while creating the vision for and leading a student affairs department/area to new heights. Make sure to check out my AUK Photo Page for a variety of photos of my experience abroad and at AUK, including photos of my campus, my apartment, car, me in a dishdasha (traditional Arabic male attire), and much more!
Barnard College - New York City, New York
My second job was at the Barnard College of Columbia University in the College Activities Office as the Associate Director/Director for Orientation in Manhattan in New York City. I moved to NYC for the great job opportunity at Barnard plus my love for life and what NYC has to offer. The students and the job duties of my position provide me with no two days that are the same and is why I love my job. Make sure to check out my Barnard Photo Page (Coming Soon) for the different activities and events that I participate and oversee.
University of South Florida - Tampa, Florida
My first professional job was at the University of South Flroida in their Office of Student Engagement and Involvement as the Coordinator for Student Organizations and Leadership Development in Tampa, FL. Other than working as an administrator for USF, I also enjoyed teaching as an adjunct instructor in different areas. I enjoyed the warm temperatures and the diverse environment that Tampa provided. Make sure to check out my USF Photo Page for the different activities and events that I participate and oversee. You can also see photos of my previous campus by clicking here.
If you have known me for more than 1 month, you would know that I have gained a huge passion for photography. It has grown now to more than I imagined as just a hobby. I have now decided to do Photography as a business on the side and have launched the newest addition to my life on the web at www.dmedinaphotography.com
You can go to my website and see samples of my work by going to My Portfolio section of my website and contact me if you are in need of a photographer. It has been a huge passion of mine to grow this ongoing passion and business of mine, but at the moment, it is on hold due to being in Kuwait, but hope to continue it while I am here and even more when I return to the states.
Traveling the World
A passion of mine is to travel and see the world. I have a goal to visit at least every continent and hopefully as many countires as I can. Make sure to check out my Leisure and Travel Photo Page for a variety of photos from all my Travel Adventures as I continue to see the world! The following map showcases my world travels by country and category.
Damian's World Travels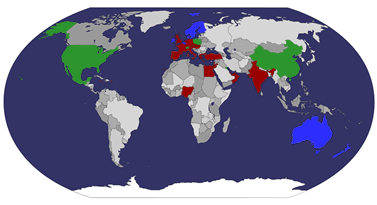 Map Legend: 15%, 40 of 263 Territories

Lived

Planned Travel

Traveled/Visited




































Map lists countries Damian has lived (spent a minimum of 1 month's time in country mainly at 1 location) traveled/visited, and booked planned travel.

Thanks and Gig'em!